In this behavioral study on the Bioware games « Mass Effect », the MassEffectUniverse.fr team invite you to answer to this poll of 20 closed questions. It is divided in 3 secret major themes. We will keep the nature of those theme secret until the results publication. Those 3 themes, after analysis, will show some parameters about Mass Effect players habits and their link with the Mass Effect Universe.
For the credibility of the answers, this poll will be available in French first and also in english for the international community. Results will be grouped to make an unique and enough sample of people, but will be analysed separately if we can see any differences between the two community.
This poll takes approximately 5 minutes, and of course, we guarantee full anonymity. The poll will be open from Saturday 10 November to Saturday 1st December at midnight. Results will be published in December.
We thank you for the time you will spend with us !
The MassEffectUniverse.fr team
As musical accompaniment during the survey, we propose « Uncharted World  » [Remix]

[soundcloud url= »http://api.soundcloud.com/tracks/21618411″ iframe= »true » /]
---
L'étude est terminée.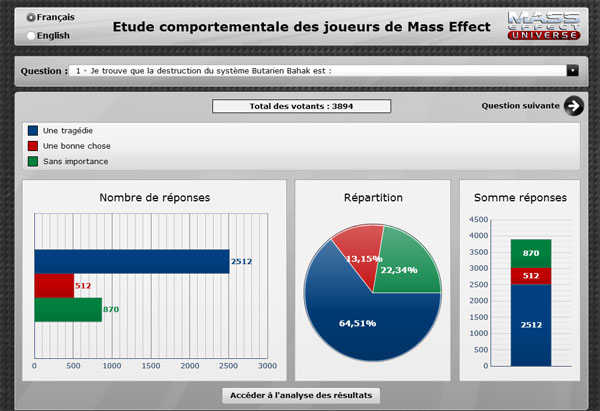 Remarque : vous devez avoir installé le plug-in Flash Player sur votre navigateur (version 10.2 ou supérieure) pour pouvoir consulter les résultats. Si ce n'est pas le cas, veuillez télécharger Flash player sur le site d'Adobe.